Powder Brows aka Powder Ombré: Your New Eyebrow Obsession at Vancouver's Plush Perfection's Permanent Makeup Clinic
If you're looking for a way to get fuller, more defined eyebrows without having to put in a lot of effort, powder brows is the way to go!
WHAT IS POWDER OMBRÉ AKA POWDER BROWS?

Powder ombre is a form of eyebrow permanent makeup that can be done in many different densities, using a digital machine and single cartridge. Powder brows are one of the most popular forms of permanent makeup cause of the natural and multidimensional look once healed. In addition to looking great, powder brows also tend to be longer-lasting compared to other techniques of permanent makeup!
POWDER BROWS VS MICROBLADING
In many ways, powder brows and microblading are similar. Both use a permanent makeup technique to replace the use of daily makeup.
Microblading is done with a very fine hand-held tool to create natural hairstrokes mimic eyebrow hairs. Microblading is not suitable for all skin types and is best for dry to normal skin that lasts the least, between 6-18 months. 
Powdered brows gives a fuller and more defined look compared to microblading. It's also the most versatile technique being suitable for all skin types including oily. Powder Brows lasts the longest out of all techniques up to 2+ years. 
My brows are Powder Ombré and has lasted me 4 years so far!
WHO IS A CANDIDATE FOR POWDER BROWS?
Almost anyone can benefit from powder ombre brows, but there are a few factors that might make you a better candidate for this procedure: 
You prefer shaped eyebrows.
You prefer full eyebrows.
You have any type of skin (dry, thin, mature, normal, sensitive or oily).
You fill in your brows solid with makeup daily.
You have thin eyebrows.
You have old previous work. 
You need a colour correction.
You are not satisfied with the shape of your natural eyebrows.
You have gaps in your brows due to over-plucking or other reasons.
IS NUMBING USED DURING AN POWDER OMBRE APPOINTMENT?
Powder ombré is very gentle and causes the least amount of discomfort. Sometimes clients opt out of numbing because of it's minimal pain level! But yes, I use a strong numbing agent with lidocaine and epinephrine to ensure your procedure is comfortable and almost painless.
HOW TO PREPARE FOR POWDER OMBRE EYEBROW APPOINTMENT?
The best way to prepare for your eyebrow powder ombre appointment is to avoid consuming alcohol and caffeine 24 hours prior. This includes decaf, tea, energy drinks, and exercise supplements. You should also avoid taking ibuprofen tablets 24 hours prior (Advil, Niacin, Aspirin, Robaxacet). Additionally, stop taking fish oils 3 days prior to your appointment. It's also helpful for your skin to be in good health on the procedure area itself and sun exposure-free 1 week prior to your appointment. 
Caffeine, alcohol and ibuprofen can cause blood to thin, which increases bleeding and discomfort. Following these instructions will ensure that you have the best eyebrow microblading experience possible.
WHAT TO EXPECT DURING A POWDER OMBRE EYEBROW APPOINTMENT?
I'll start with an eyebrow consultation. This is where we discuss shape, size, colour and go over any questions you might have before we start to create the eyebrow mapping. The mapping for powder brows takes a little longer than mapping for other techniques. Once that's done, I have you take a look and make any adjustments if needed before moving on to the procedure!
During your powder ombré eyebrow procedure, I create the outline then apply numbing and use a sterile, single-use cartridge and digital machine to fill in. After, the pigment is applied and a brush is used to massage ink into the area, wipe and repeat until process till completed! With powder ombré a lot of the time you don't feel anything the first pass, but I still apply numbing throughout the procedure! 
HOW LONG DOES A EYEBROW POWDER OMBRE APPOINTMENT TAKE?
It can takes at least 2 hours sometimes even 2.5 depending on facial anatomy and skin type. This includes consultation, eyebrow mapping and the actual procedure itself!
WHAT TO EXPECT AFTER A POWDER OMBRE EYEBROW APPOINTMENT?
After your eyebrow appointment you can expect the following:
Your eyebrows will be darker, fuller, larger and will fade 20-50%.

Your eyebrows will produce a scab, harden and then shed off in pieces. It's important to not to pull, scratch or disturb the scab from the surface of the skin.

Your eyebrows will take around 5-10 days to heal.

You eyebrows may appear light once the shedding phase is complete, then darken again between 4-6 weeks.

You will need to keep them clean, dry and away from water and sweat.

They will need to be retouched in 6-8 weeks from the initial appointment.

You don't like the appearance of your eyebrows.
DOES EYEBROW POWDER OMBRÉ HARM THE SKIN?
Powder Ombré is a wonderful way to improve your appearance without causing any permanent damage to your skin! The technique is the most gentle out of any permanent makeup service so will not have to worry about any scarring or other side effects.
WHAT IF I HAVE AN EXISTING EYEBROW TATTOO?
If you have previous eyebrow microblading or eyebrow tattoo that you're not satisfied with, powder ombré is a great way to revamp your eyebrows to get a better shape! I can do a colour correction too, if your have poorly implanted pigment previously that has faded to a pink or grey colour.
If you have any questions, please email a photo of your current eyebrow situation to plushperfectionsbeauty@gmail.com or book a complimentary consultation online. This way, I can provide the best advice for achieving your goal!
Plush Perfection's Powder Ombré Portfolio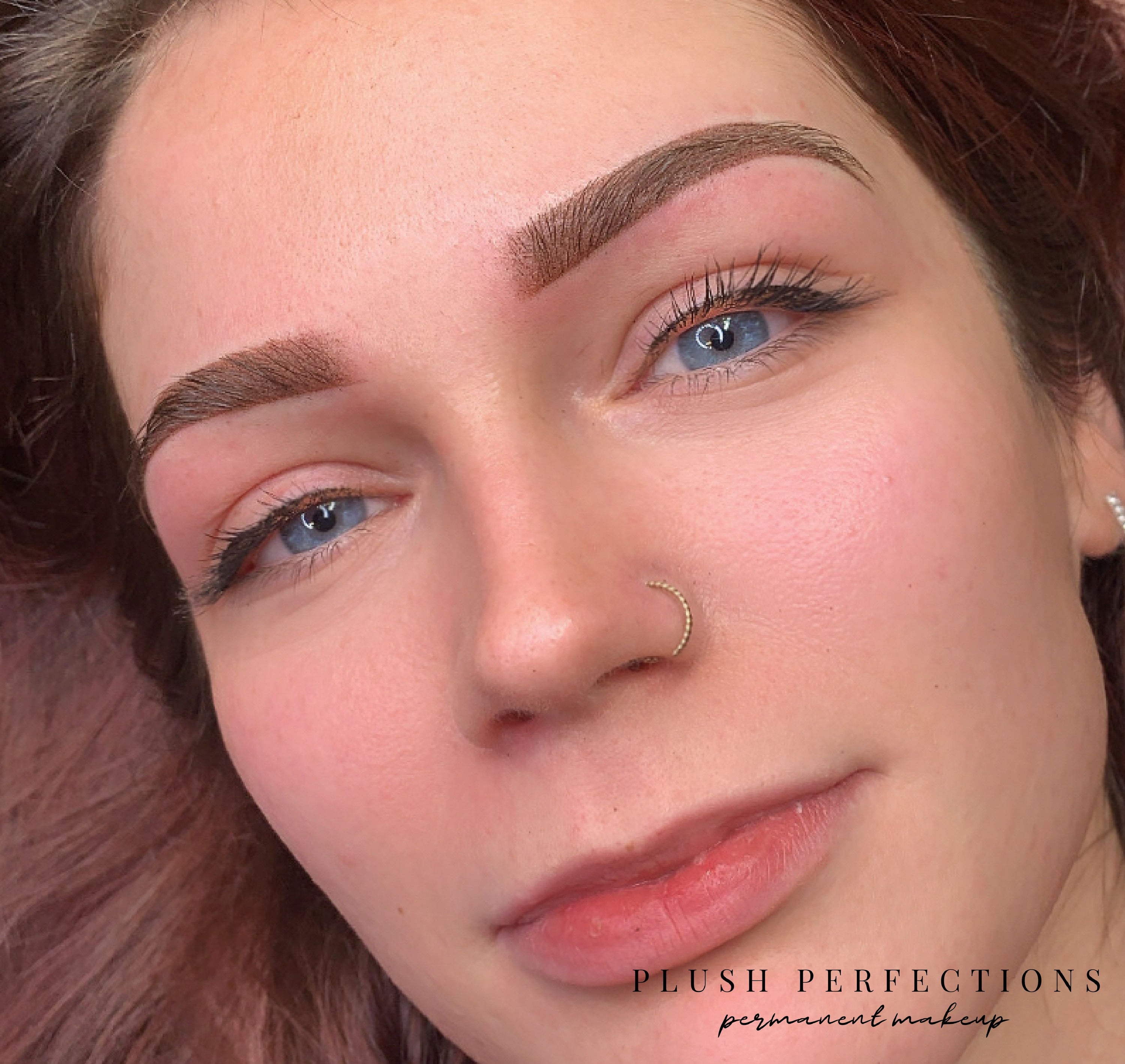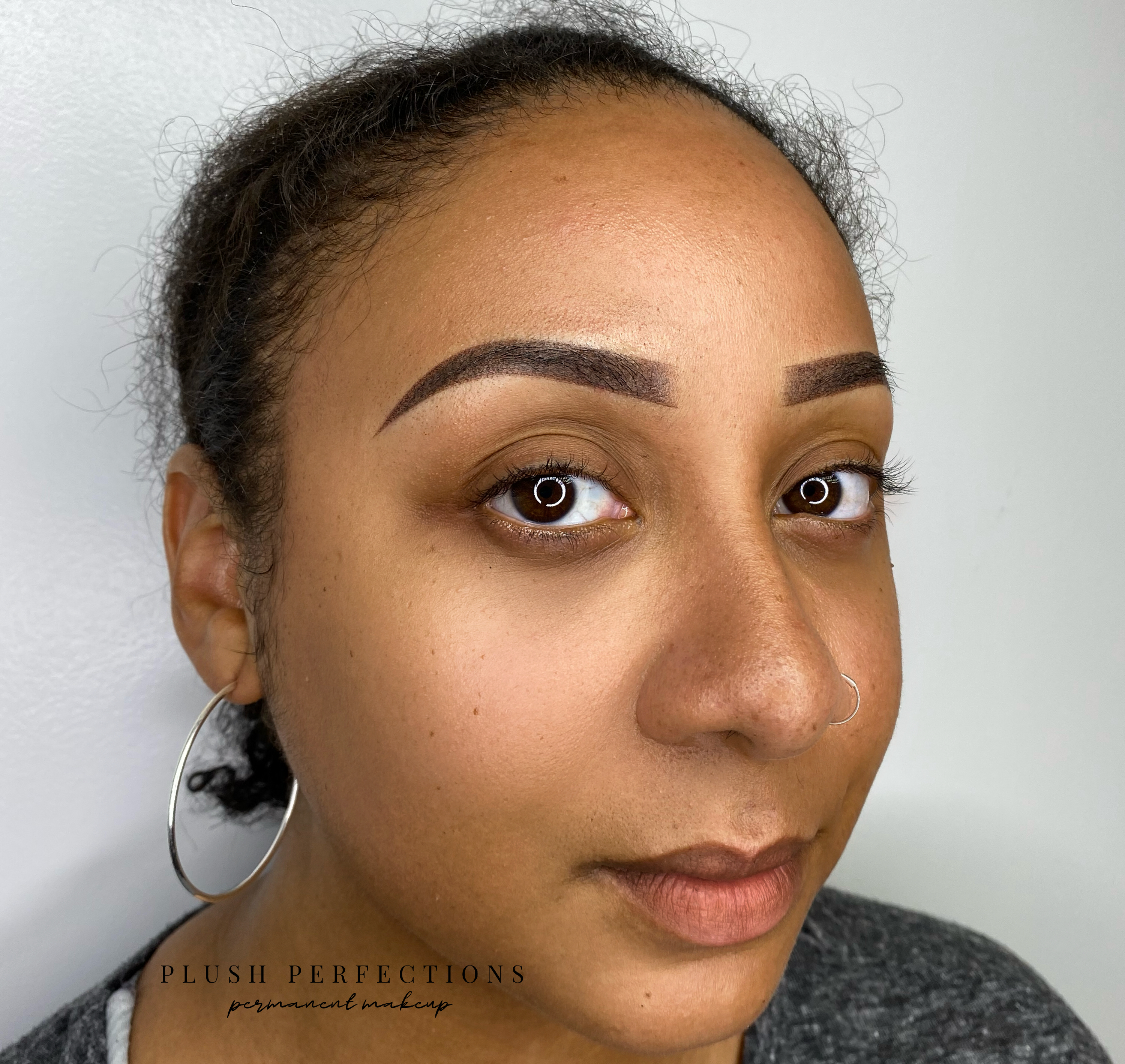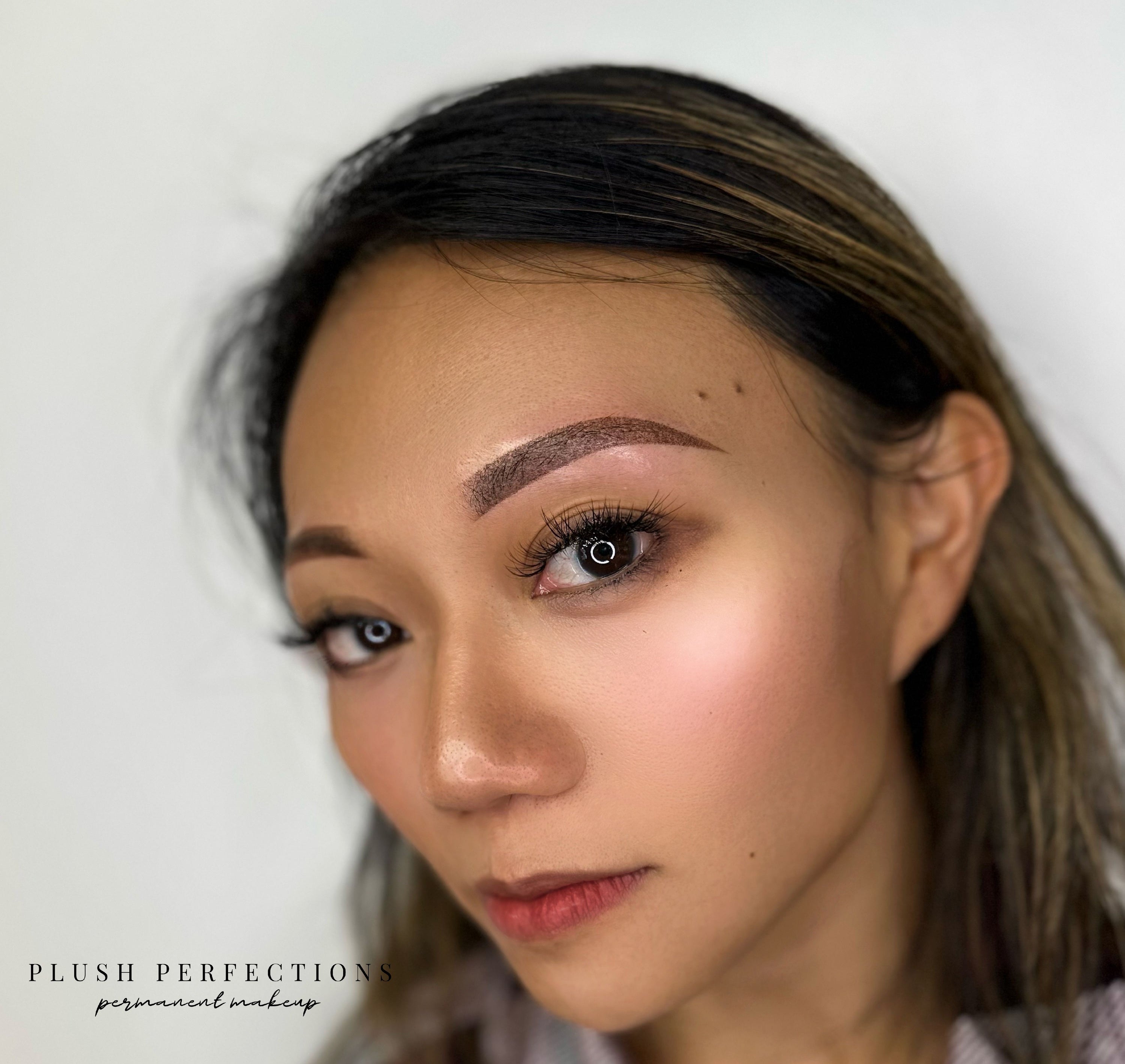 Book Your Appointment Today
You'll look great when your swimming, sweating and sleeping!