Lip Blush Services in Vancouver: Everything You Need to Know About the Popular Pretty Pout
Lip blush, Lip Tattoo or Lip Blushing is the perfect way to enhance your lips and add a touch of colour that will last a few years!
This form of permanent makeup is perfect for those who want to add a subtle amount of colour to their lips, without having to worry about it smudging or fading away.
WHAT IS LIP BLUSH AKA LIP TATTOO?
Lip Blush is a cosmetic technique of tattooing that provides permanent lip colour enhancement. It's created by using a hand held digital device that inserts pigment ink into the lips with a small sterile needle. 
DOES LIP BLUSH HURT?
Everyones pain tolerance is a bit different but when permanent makeup is completed correctly, it shouldn't cause too much discomfort during the procedure. After the skin is punctured the numbing absorbs best. But don't worry, I use a strong topical numbing agent that will eliminate it quickly if it does happen! 
DO YOU CUSTOMIZE LIP BLUSH COLOURS?
Yes, the great part about being an experienced Lip Blush artist is that I'm able to match your lipstick almost exactly! Or, if you prefer a more natural enhancement, I can blend the pigment colour in with the normal tone of your lips too (my favourite).
WHY SHOULD I GET LIP BLUSH OR A LIP TATTOO?
A lip blush tattoo is the perfect way to improve the appearance of your lips in more ways than you think! Can you relate to any of these reasons below?
You want to correct symmetry (one side is lower or higher).
You have a scar on your lips.
You want your lips appear more full and defined.
You want to eliminate the use of lipstick application.
You want to look great while swimming and sweating.
You have lip fillers and want a more ideal shape. 
You want to save time in the morning.
You want smudge-proof lips. 
You want a natural tint to your lips.
You want a bold appearance to your lips.
WHAT TO EXPECT DURING A LIP BLUSH APPOINTMENT?
I'll start with a customized consultation. This is the time set aside to discuss shape, size, colour and go over any questions you might have, before we start to create the lip mapping. Once that's done, I have you take a look and make any adjustments if needed before moving on to the procedure!
During your lip blush procedure, I gently create the outline (this feeling is similar to tweezing an eyebrow hair). After, numbing is applied where it will sit for a few minutes until the magic starts working! Once you're numb, I begin shading inside the outline using a sterile cartridge and digital machine. Each "pass" thats completed, a brush is used to massage pigment into the lips along with numbing. These steps are repeated 3-5 times until the process is complete. The first few minutes you might be able to feel a tiny bit of discomfort but as the numbing absorbs into your skin it's basically painless!
WHAT IS THE AFTERCARE FOR LIP BLUSH TATTOO OR LIP TATTOO?
Avoid caffeine and alcohol for 24 hours prior to appointment. 
Avoid Advil and other blood thinners (Niacin, Vitamin E, Ibuprofen) unless medically necessary 48-72 hours prior to appointment. You can take Tylenol if you are worried about pain.
Avoid exercise and excessive sweating day of appointment.
Avoid chemical peels, laser resurfacing, vitamin E, retinol or fish oil at least 4 week prior to appointment.
Get anti-viral medication from your Doctor and take accordingly if you are prone to cold sore outbreaks.
Please read aftercare and ensure you are able to follow it properly 
Keep lips hydrated with lip balm 7 days prior to ensure lips are hydrated.
WHAT IS A CLEFT LIP BLUSH RESTORATION TATTOO?
Vancouver's Plush Perfection's cleft lip blush restoration tattoo is designed to correct the symmetry and overall shape of the lips. If you have a cleft lip and want to even out the sides, book this service - it will give you the confidence to show off your smile to the world!
Just like regular lip blush/lip tattoo, you're able to select a natural or bold pigment choice. 
WHAT IS DARK LIP NEUTRALIZATION TATTOO?
Dark Lip Neutralization Tattoo is a specialized treatment for those with cool or deeply pigmented lips. The procedure neutralizes the cool tone in the lips to reach your desired colour of choice.
With dark lip neutralization, sometimes a total of 2-3 sessions are required in order to lift the pigmentation. But, trust me, you will love it and it will give you lip confidence!
WHAT ARE THE BENEFITS OF DARK LIP NEUTRALIZATION TATTOO?
You will have lighter colour lips.
You eliminate the use of lipstick multiple times a day.
You can sweat and swim without worrying about your lips.
You want to add a more ideal shape, while still appearing natural.
Plush Perfection's Lip Blush Portfolio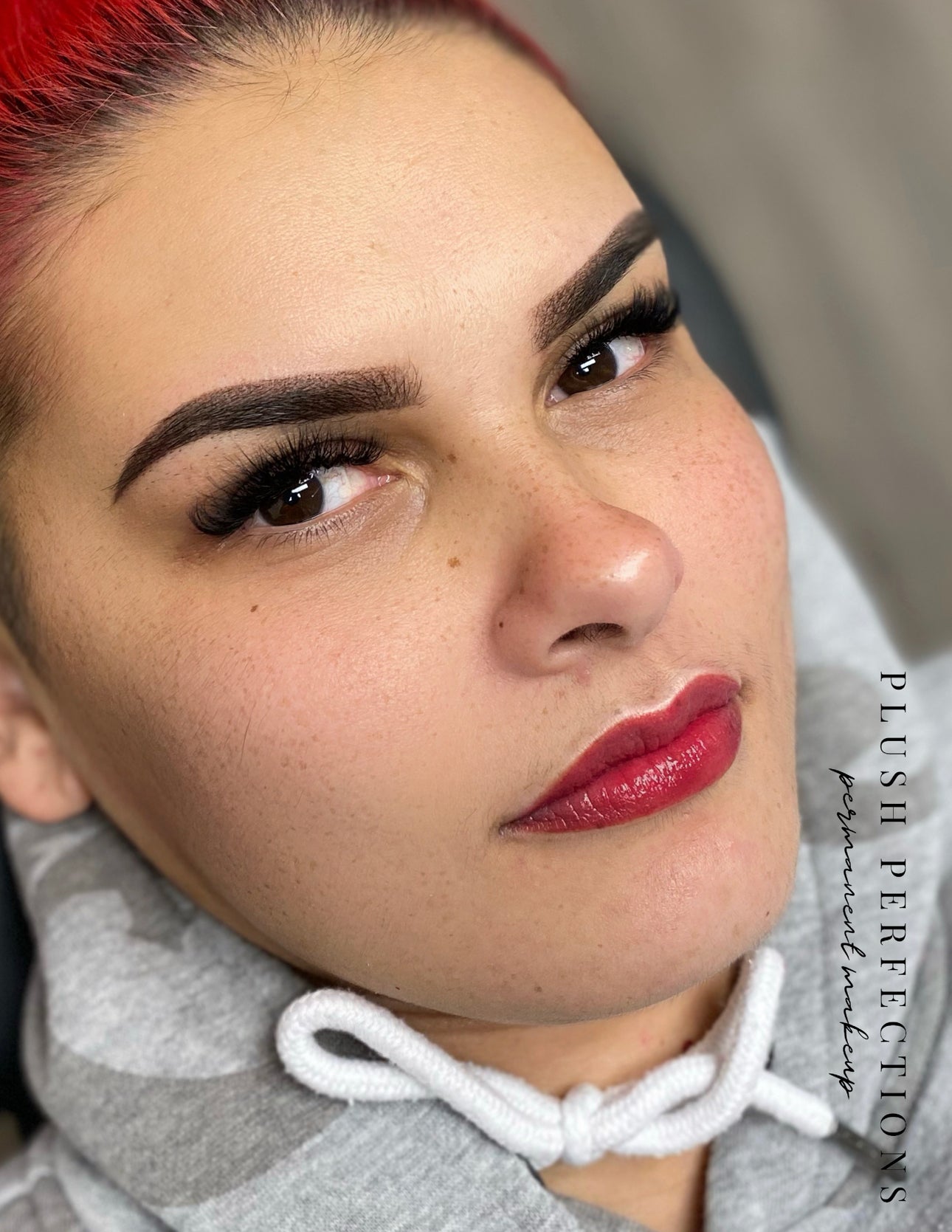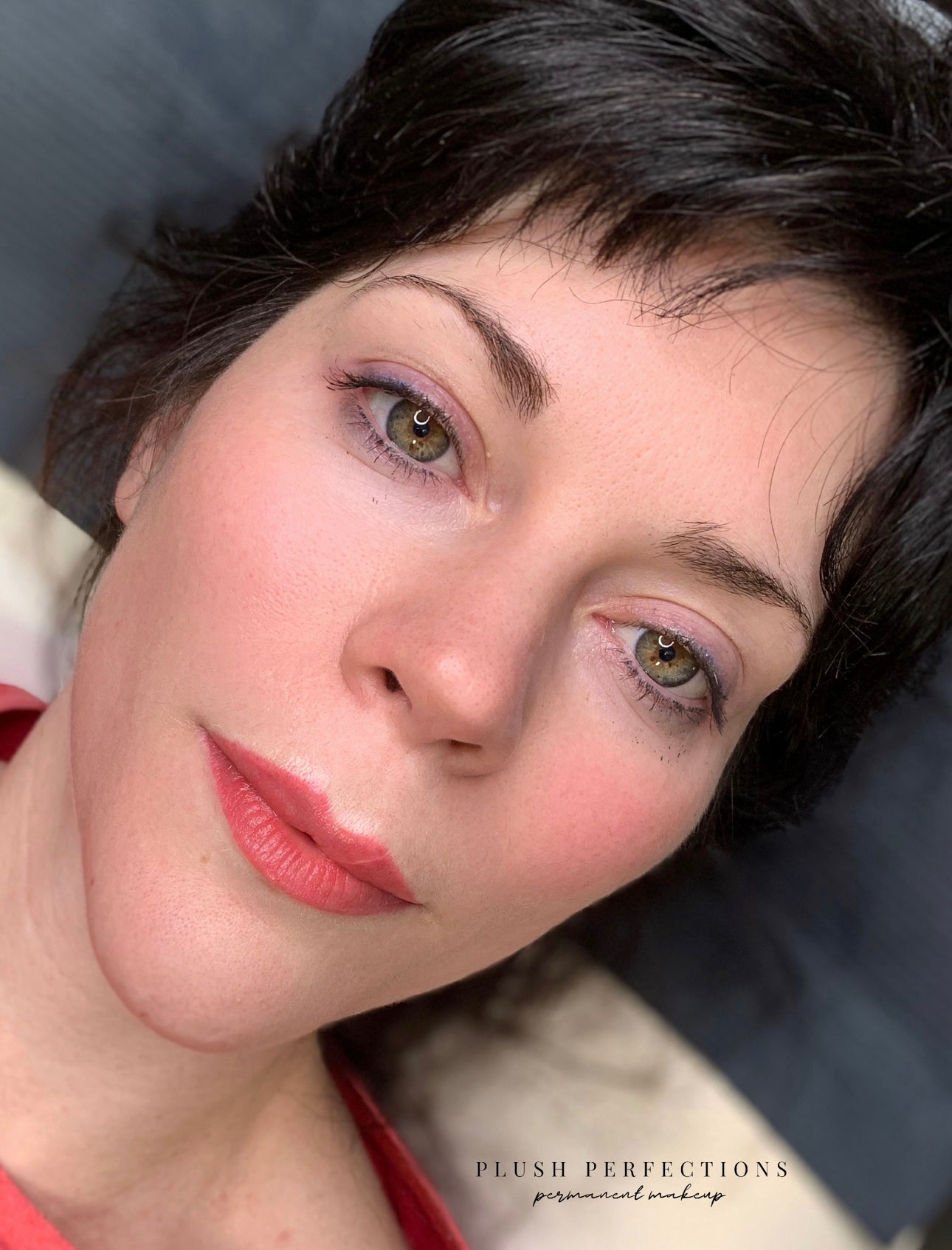 Interested in Lip Blush?
Book an appointment today by clicking th link below. New lips, new you!