Everything You Need to know About Vancouver's Plush Perfection's Combination Eyebrow Service "Combo Brows"
Combination Eyebrows! Ah, my favourite! This technique is the most popular and signature style of Plush Perfection's.
You'll see this style a lot across my media platforms.
WHAT ARE COMBINATION EYEBROWS AKA COMBO BROWS?
Combination eyebrows are mix of both microblading and shading (powder ombré). This style achieves fuller and more defined look! Microblading is used to create the illusion of natural brows in the fronts, while shading helps to define the body and tail of the brow for a more polished look.
WHAT ARE THE BENEFITS OF COMBINATION EYEBROWS?
When it comes to any type of permanent makeup, I don't even know where to start! There are so many benefits, but most importantly, you'll save time in the morning. Say goodbye to your daily makeup routine! Another thing is that you'll always look great when you're sweating or swimming, look more refreshed and younger. The transformations I make are unreal sometimes! Ladies look 10-15 years younger when they walk out the door!
WHO IS THE RIGHT CANDIDATE FOR COMBINATION EYEBROWS?
Almost anyone can benefit from combination eyebrows! It's suitable for all skin types and eyebrow situations. If you have any of the following, this would be your go to:
You have any skin type: normal, thin, oily, mature, thick and sensitive.
You have asymmetrical eyebrows where one is higher than the other.
You have sparse or thinning eyebrows.
You want to add definition to your eyebrows with natural fronts.
You are not satisfied with the shape of your natural eyebrows.
You have gaps in your brows due to over-plucking or other reasons.
IS NUMBING USED DURING AN COMBINATION EYEBROW APPOINTMENT?
Totally! I use a strong numbing agent with lidocaine and epinephrine to ensure your procedure is comfortable and almost painless. This way, you can relax and know that you're in good hands.
HOW TO PREPARE FOR A COMBINATION EYEBROW APPOINTMENT?
The best way to prepare for your combination eyebrow appointment is to avoid consuming alcohol and caffeine 24 hours prior. This includes decaf, tea, energy drinks, and exercise supplements. You should also avoid taking ibuprofen tablets 24 hours prior (Advil, Niacin, Aspirin, Robaxacet). Additionally, stop taking fish oils 3 days prior to your appointment. It's also helpful for your skin to be in good health on the procedure area itself and sun exposure-free 1 week prior to your appointment. 
Caffeine, alcohol and ibuprofen can cause blood to thin, which increases bleeding and discomfort during your appointment. Following these instructions will ensure that you have the best eyebrow experience possible.
WHAT TO EXPECT DURING AN COMBINATION EYEBROW APPOINTMENT?
I'll start with an eyebrow consultation. This is where we discuss shape, size, colour and go over any questions you might have before we start to create the eyebrow mapping. Once that's done, i'll have you take a look and make any adjustments if needed before moving on to the procedure!
During the eyebrow procedure I apply numbing and use a sterile, single-use tool to microblade the fronts and a digital device to shade the body of your eyebrows. After, the pigment is applied and a brush is used to massage into the area, wipe and repeat until process till completed. The first few minutes you might be able to feel a tiny bit of discomfort but as the numbing absorbs into your skin it's basically painless!
HOW LONG DOES A COMBINATION EYEBROW APPOINTMENT TAKE?
It takes around two hours to complete a set of combination eyebrows. This includes consultation, eyebrow mapping and the application. The actual microblading and shading process is a bit longer than just microblading. It's around 50-60 minutes and is less uncomfortable than purely microblading due to the machine shading!
WHAT TO EXPECT AFTER AN EYEBROW COMBINATION APPOINTMENT?
After your combination eyebrow appointment you can expect the following:
Your eyebrows will be sharper, darker, fuller, larger and will fade 20-50%.

Scabs will form and your brows will take some time to heal. Usually around 5-10 days is what to expect with combination eyebrows.

Your eyebrows will appear light until the pigment resurfaces, then darkens again in between 4 to 6 weeks.

You will need to keep your eyebrows clean, dry and away from water and sweat.

Your eyebrows will need to be retouched in 6-8 weeks from the initial appointment, as it is a two step process. Some clients depending on the skin type, can go months without having a touch up with combination eyebrows!
DOES COMBINATION EYEBROW PERMANENT MAKEUP HARM THE SKIN?
Combination eyebrows is a great way to improve your appearance without causing any permanent damage to your skin. The procedure is fairly simple and straight forward, and as long as it's done properly by an experienced permanent makeup artist like myself - you will not have to worry about any scarring or other side effects.
HOW LONG DO COMBINATION EYEBROWS LAST FOR?
I like to say between 2-4 years, sometimes even longer! It is all based on your skin type (dryer the better). 
WHAT IF I HAVE AN EXISTING EYEBROW TATTOO?
If you're considering correcting or covering your previous eyebrow tattoo this is a great option! With the shading portion, I'm able to do a colour correction and neutralize any previous pigment remaining before applying the desired colour if needed!
If you would like to have a digital or in-person consultation to discuss your options, it doesn't hurt to book a consultation or send a photo of your existing eyebrows to plushperfectionsbeauty@gmail.com. This way, I can confirm that your tattoo can be worked with and provide the best advice for achieving your goal!
Plush Perfection's Combination "Combo Brow"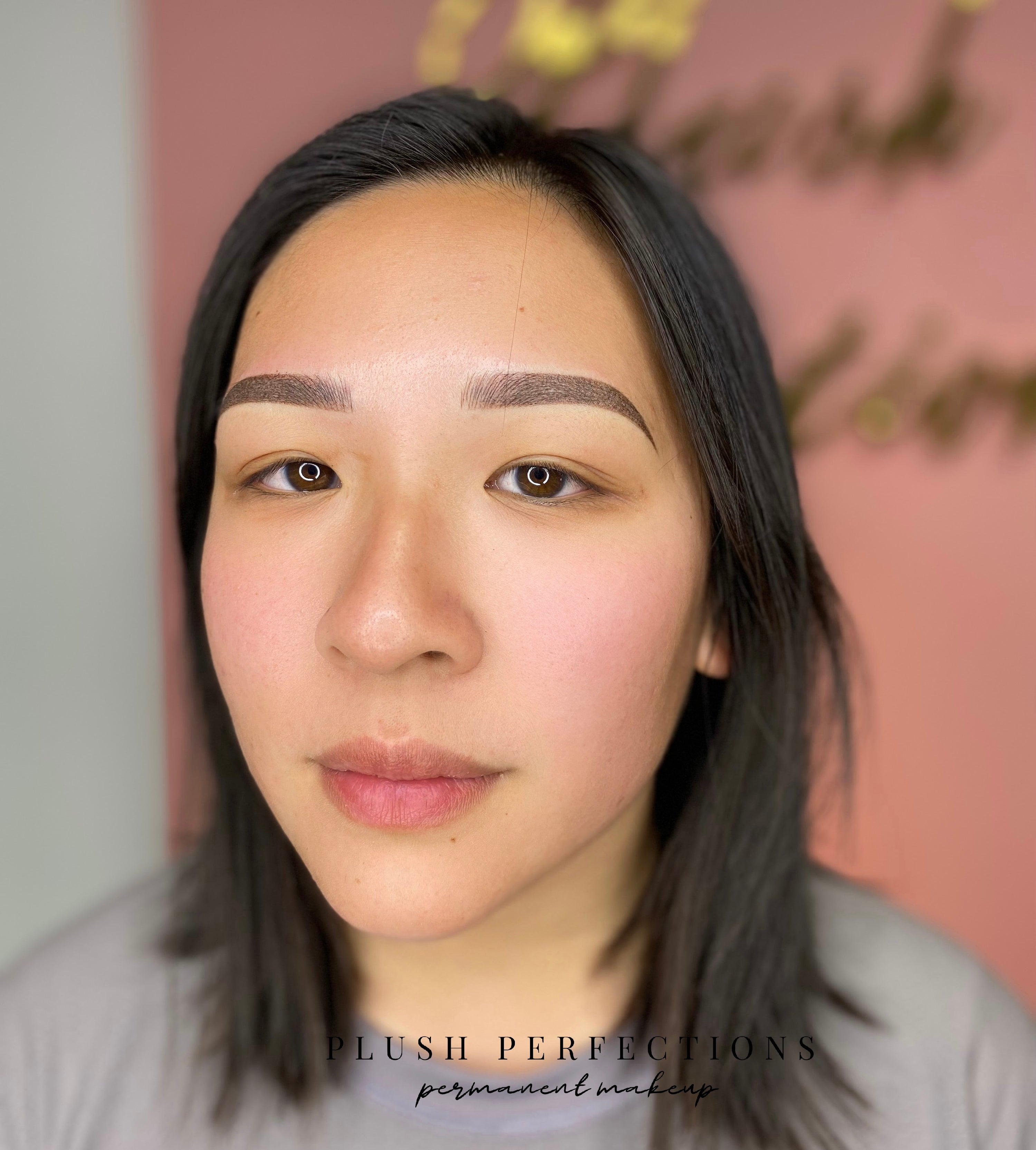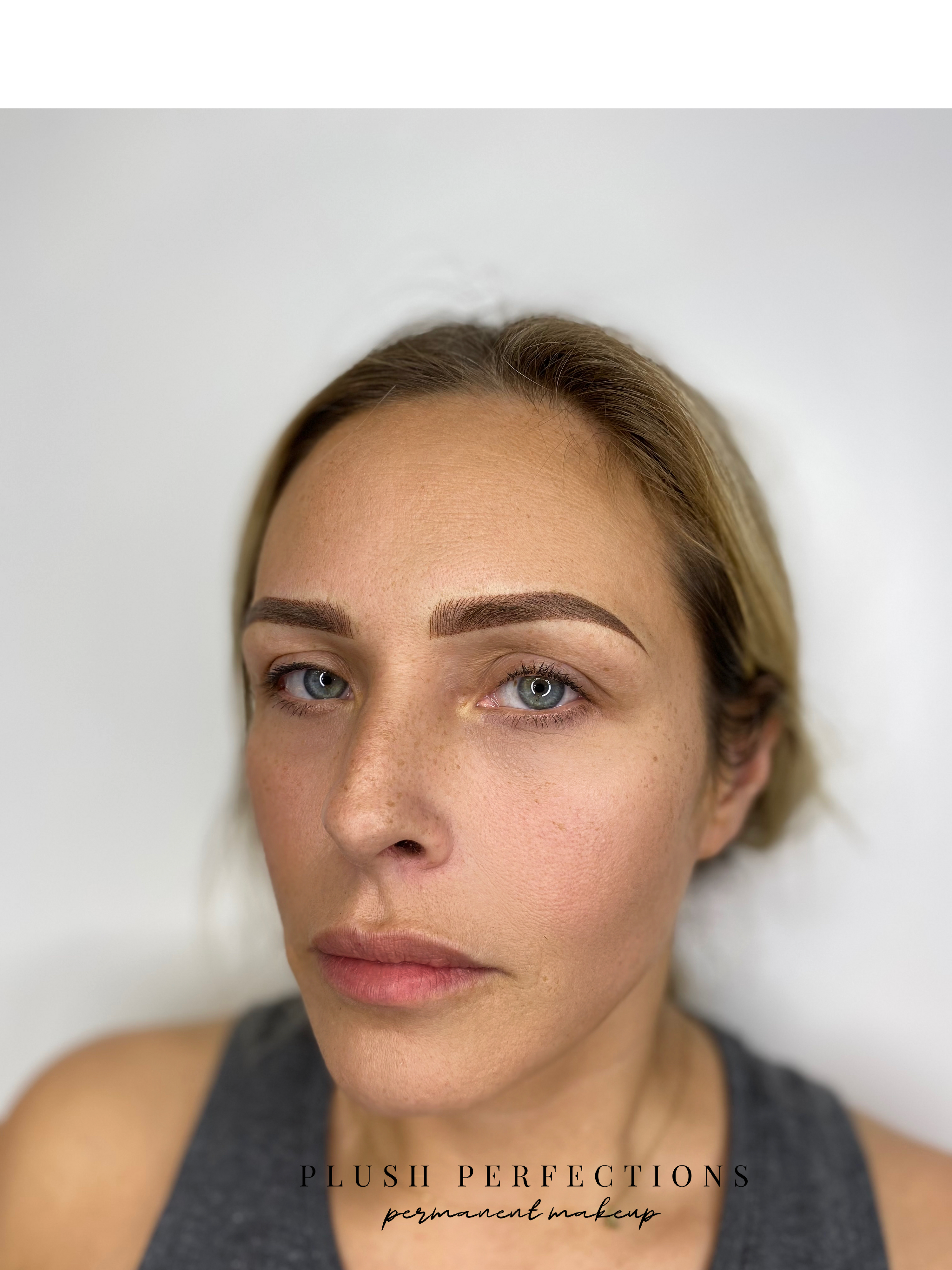 Want to book an appointment?
Avoid having to fill your eyebrows everyday and have Plush Perfections REVAMP your eyebrows