Vancouver Eyebrow Blade & Shade: Microblading with Shading at Plush Perfection's
If you like the look of microblading but want a step up that lasts slightly longer, this is the choice for you!
Don't forget to scroll down and view my beautiful clients showing of their new brows!
WHAT IS A BLADE & SHADE?
Blade & Shade is an entirely microbladed eyebrow with dusted shading to add that extra pop to your brows. When adding shading to your microbladed eyebrows, it adds 1-2 years longevity than just microblading (6-18 months). If you love the look of microblading and have slightly oily skin, I high recommend this style!


WHAT ARE THE BENEFITS OF A BLADE & SHADE EYEBROW?
When it comes to a Blade & Shade, where do I start? There are so many benefits, but most importantly, you'll save time in the morning. Say goodbye to your daily makeup routine! Another thing is that you'll always look great when you're sweating or swimming, look more polished, refreshed and younger. The transformations I make are unreal sometimes! Ladies look 10-15 years younger when they walk out the door!
WHO IS THE RIGHT CANDIDATE FOR A BLADE & SHADE EYEBROW?
Almost anyone can benefit from a Blade & Shade in my eyes. However, there are a few factors that may make you a better candidate for this procedure:
You love the look of microblading but have oily skin.
You have any normal, thin or sensitive skin.
You have sparse or thinning eyebrows.
You have short eyebrows (zero-short tails).
You fill in your eyebrows with makeup creating a natural look.
You want to add natural definition to your eyebrows.
You are not satisfied with the shape of your natural eyebrows.
You have gaps in your brows due to over-plucking or other reasons.
IS NUMBING USED DURING AN BLADE & SHADE EYEBROW APPOINTMENT?
Absolutely, I use a strong numbing agent with lidocaine and epinephrine to ensure your procedure is comfortable and almost painless. This way, it's comfortable for you!
HOW TO PREPARE FOR BLADE & SHADE EYEBROW APPOINTMENT?
The best way to prepare for your Blade & Shade eyebrow appointment is to avoid consuming alcohol and caffeine 24 hours prior. This includes decaf, tea, energy drinks, and exercise supplements. You should also avoid taking ibuprofen tablets 24 hours prior (Advil, Niacin, Aspirin, Robaxacet). Additionally, stop taking fish oils 3 days prior to your appointment. It's also helpful for your skin to be in good health on the procedure area itself and sun exposure-free 1 week prior to your appointment. 
Caffeine, alcohol and ibuprofen can cause blood to thin, which increases bleeding and discomfort. Following these instructions will ensure that you have the best eyebrow microblading experience possible.
WHAT TO EXPECT DURING A BLADE & SHADE EYEBROW APPOINTMENT?
I'll start with an eyebrow Blade & Shade consultation. This is where we discuss shape, size, colour and go over any questions you might have before we start to create the eyebrow mapping. Once that's done, i'll have you take a look and make any adjustments if needed before moving on to the procedure!
During the eyebrow procedure the I apply numbing and use a sterile, single-use tool to microblade your eyebrows and use a digital machine to add soft shading. After, the pigment is applied and a brush is used to massage into the area, wipe and repeat until process till completed! The first few minutes you might be able to feel a tiny bit of discomfort but as the numbing absorbs into your skin it's basically painless!
HOW LONG DOES A EYEBROW BLADE & SHADE APPOINTMENT TAKE?
It can take up to two hours to get your perform a Blade & Shade procedure which includes consultation, eyebrow mapping and the actual procedure itself. Don't worry, the Blade & Shade application is relatively quick and is roughly 30-40 minutes depending on the client!
WHAT TO EXPECT AFTER AN BLADE & SHADE EYERBOW APPOINTMENT?
After your Blade & Shade eyebrow appointment you can expect the following:
Your eyebrows will be darker, fuller, larger and will fade 20-50%.

They will take some time to heal, usually around 5-10 days then will appear light until the pigment resurfaces, then darkens in about 6 weeks.

You will need to keep them clean, dry and away from water and sweat.

They will need to be retouched in 6-8 weeks from the initial appointment as it is a two step process, especially with a Blade & Shade. Any adjustments can be made at this time!
DOES A BLADE & SHADE HARM THE SKIN?
A Blade & Shade is a great way to improve your appearance without causing any permanent damage to your skin. The procedure is fairly simple and straight forward, and as long as it's done properly by an experienced artist like myself, you will not have to worry about any scarring or other side effects.
WHAT IF I HAVE AN EXISTING EYEBROW TATTOO?
If you have a previous eyebrow tattoo, when selecting a Blade & Shade it can help cover the previous colour shown in between the microblading hairstrokes. If you would like a professional opinion, please feel free book a complimentary consultation online or send a photo of your existing eyebrow tattoo to plushperfectionsbeauty@gmail.com. This way, I can confirm that your tattoo can be worked with and provide the best advice for achieving your goal!
Plush Perfection's Portfolio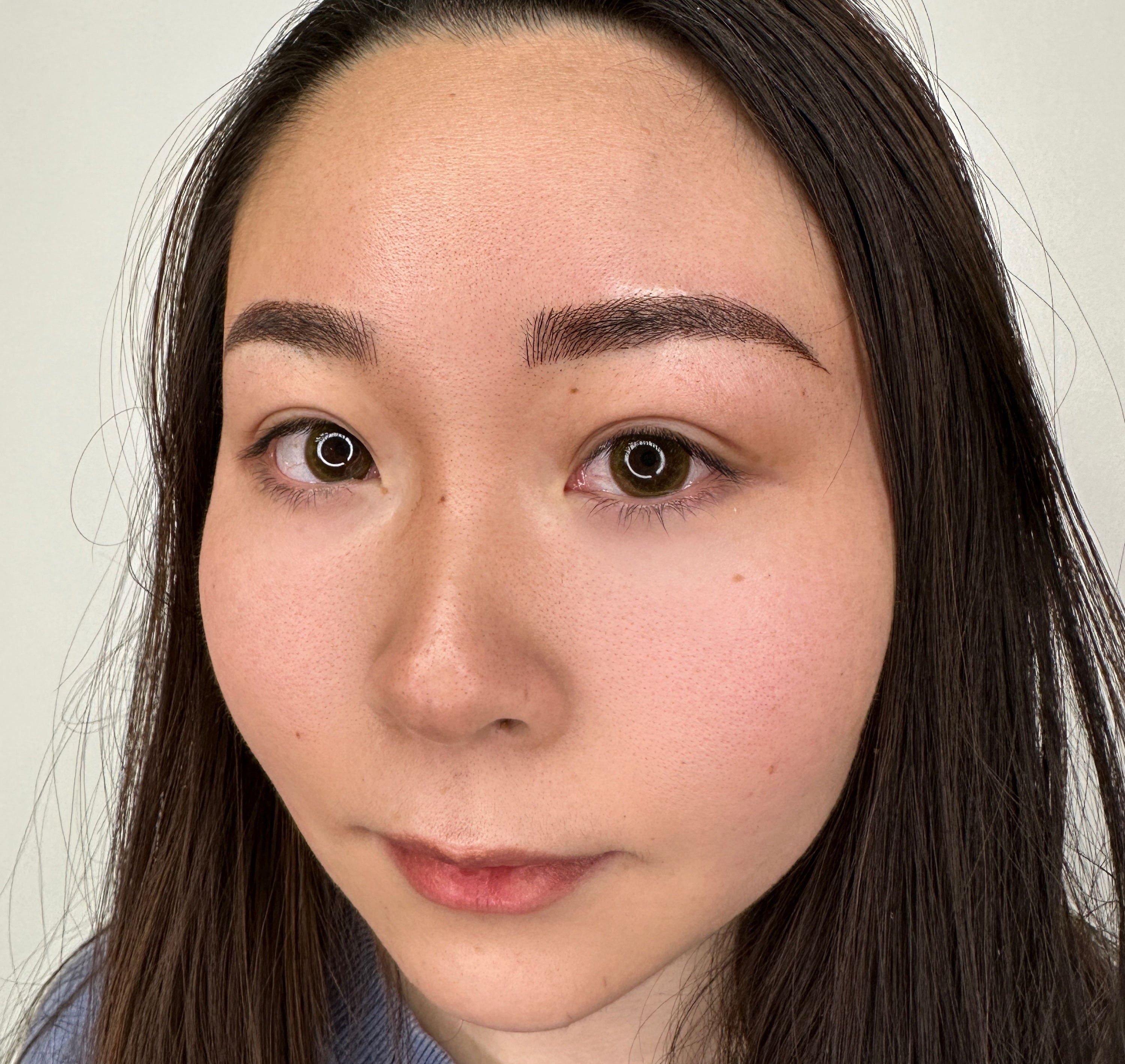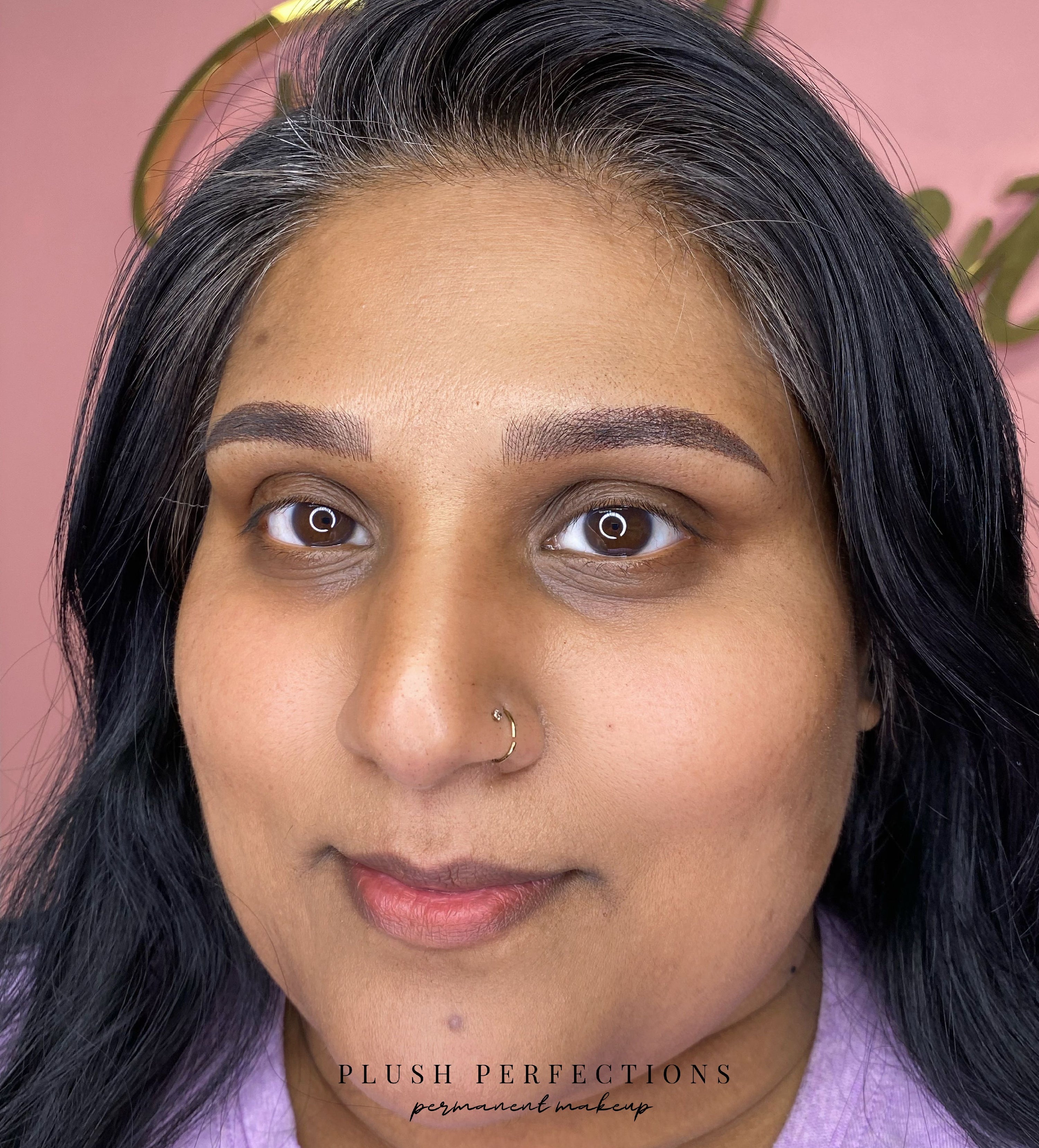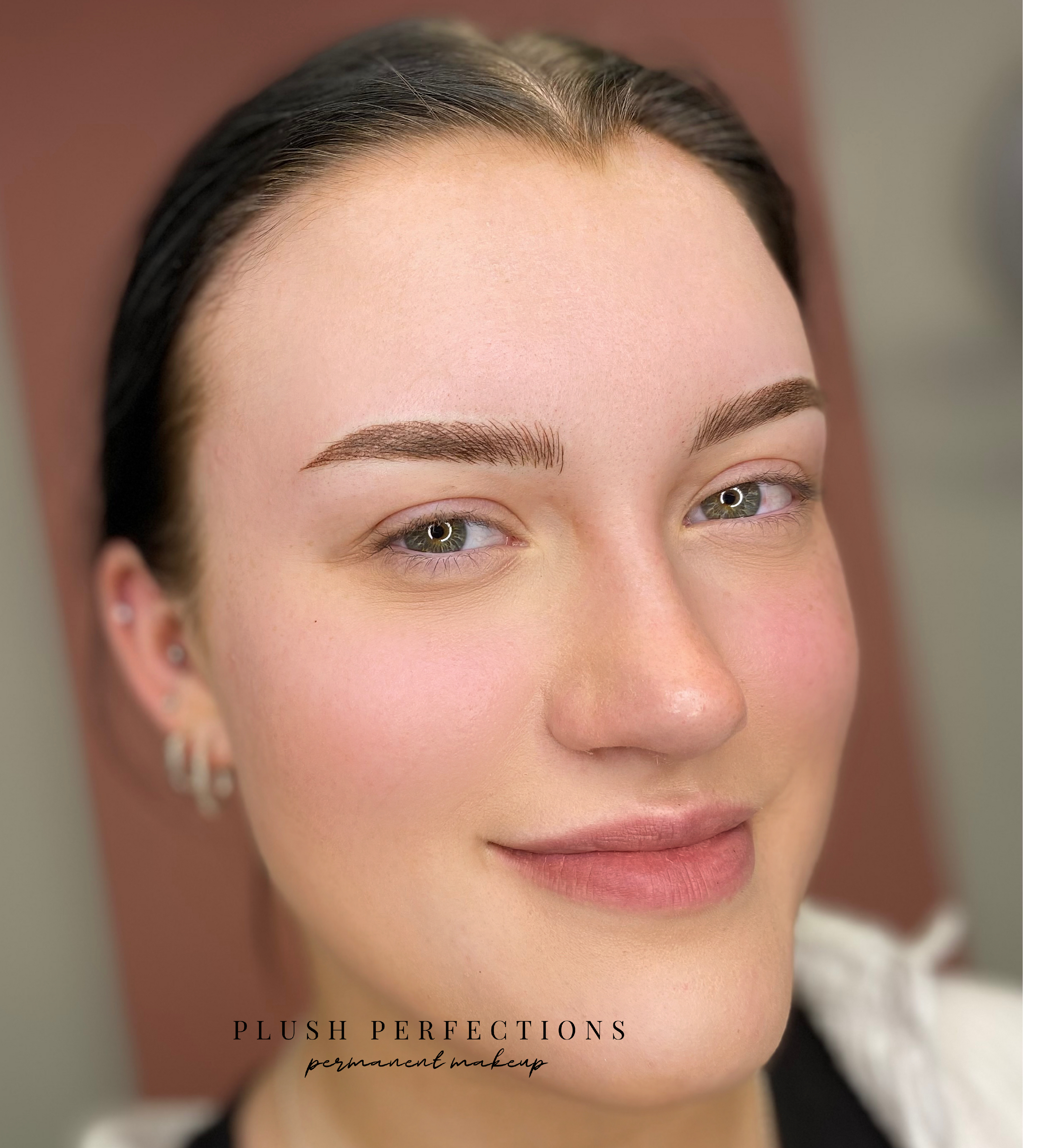 Get eyebrows that last, the Plush way.
Ditch the pencil and stop the use of daily makeup!