Preparing for your Upcoming Appointment
We can't wait to meet you and give you some awesome new brows! But before we can do that, we must ensure you're a suitable candidate first.
Please take a moment and read through our disqualification list prior to booking. 
Disqualification List
Under 18 years of age
Pregnant or nursing.
Transmittable blood conditions (i.e. Hepatitis or HIV).
Prone to keloids.

Skin conditions such as eczema or psoriasis in the area to be treated.

Used accutane within 1 year. 
Diabetic (consult with family doctor prior to booking). 
Underwent radiotherapy or chemotherapy within 1 year. 
 Pre-procedure Instructions
We ask that you voluntarily follow our instructions leading up to your appointment, this allows proper absorbtion of pigments. 
If instructions are not adhered to, your appointment will be rescheduled to a later date.
To compensate loss wages, deposit will be forfeited and a new deposit will be required upon rebooking. 
Do not consume caffeine, tea, alcohol or energy drinks 24 HOURS prior.

Do not take aspirin, ibuprofen, Niacin, or other NSAIDs 48 HOURS prior appointment as this can cause blood to thin. It is HIGHLY RECOMMENDED, as this will affect your final healed result.

Do not consume Vitamin E, or fish oils 3 days prior.

No facials, peels, exfoliants, Retinol, Vitamin A, AHA skin care product 2 WEEKS before your appointment.
No Botox 2 weeks prior to appointment.

No direct sun exposure on brow area 2 weeks prior (wear a hat).
Techniques You'll Be Taught
Microblading

A natural look resembling the illusion of real eyebrow hairs. Ideal for clients who wear minimal makeup. Suitable for dry to normal skin.

Microshading

A Microbladed eyebrow accompanied with light shading. Ideal for clients that like the look of microblading but has slightly oily skin.

Powder Ombré

A fully shaded eyebrow that can be soft, medium or defined. Best for daily makeup users that prefer a shaped brow. Ideal for all skin types including oily.

Combination

Our most popular and signature style "Combo Brow" is a great choice for clients that fill their brows, but like natural fronts of the brows. Ideal for all skin types including oily.
How It Works
Our permanent makeup masterclass is divided into two parts: an Online Workshop and an In-Person Class.
The online workshop will provide you with a strong foundation of permanent makeup, which you can learn at your own pace and from the comfort of your home. You will learn about the fundaments, different techniques of permanent makeup, skin anatomy, brow shaping, colour theory, corrections, sanitation and so much more.
The in-person class you will have the opportunity to indulge hands-on with brow mapping, technique, hand & body positioning, photography, videography and apply that to 3 live models under professional guidance.
Online Workshop
Day 1 - Online

Complete Bloodborne Pathogen Online Certification

Module 1: What is Permanent Makeup?

Intro to Permanent Makeup
Different Techniques

Module 2: Workplace Safety

Sanitation & Hygiene
Protective Supplies
Procedure Equipment
Quiz

Module 3: Skin Anatomy

Precautions
Skin Anatomy
Topical Numbing Agents
Healing Process
Aftercare
The Fitzpatrick Scale
Skin Types and Conditions
Quiz

Module 4: Colour Theory and Pigmentology

Colour Theory
Pigmentology
Undertones
Quiz
Day 2 - Online

Module 5: Eyebrow Shapping

Facial Morphology
Mapping Foundations
Practicing Drawing Tail Ends
Tools and Supplies
Brow Mapping Tips
Brow Mapping Step-by-Step
Print PDF Brow Model for Practice
Quiz
Day 3 - Online

Module 6: The Art of Microblading

Fundamentals of Manual PMU
Microblading Rules
Learning the Pattern
Practice the Steps
Quiz
Day 4 - Online

Module 7: Mastering Powder Ombré

Powder Ombre Fundamentals
Learning Machine Motions
Machine PMU Rules
Practice Outlining and Blending
Quiz

Module 8: Microshading & Combo Brows

Blade & Shade Steps
Practice Combination Steps

Module 9: Colour Corrections

What is a Colour Correction
Colour Correction Process
Day 5 - Online

Module 10: Preparation

How to Conduct a Consultation
Day of Procedure
Consent Form
Station Preparation Checklist
Quiz

Module 11: Photography & Videography

How to Capture Appealing Photos and Videos
Editing Apps
How to Edit Photos
How to Edit and Combination Video Clips
How to Transition Clips

Module 12: Branding & Marketing

How to Brand Your Business
Marketing and Ad Campaigns
Creating Instagram Ads
In-Person Class
Day 6 - Live

Live Brow Mapping
Hands-on Microblading Practice on Latex Skins
Mannequin Practice
Day 7 - Live

Procedure Station Preparation
How to Capture Photos and Videos
Live Microblading Model No. 1
Post-Procedure Cleanup
Hands-on Machine Permanent Makeup Practice
Day 8 - Live

Machine Practice Refresh
Live Powder Ombre Model No. 2
How to Edit Photos & Videos
Creating Microshading and Combination Brows
Day 9 - Live

Combination Brow Model No. 3
Enrolment in Our Lifetime Individual Coaching Program
Certification
Professional Kit and Premium Device Included
Our high quality and performance student kit is worth $800 and provides you with the essential supplies to begin your career after graduation.
Collapsible content
PMU Device

Dragonhawk Mast Tour Machine
Dragonhawk The Mast Wireless Battery
10 Kwadron Cartridges
Microblades

10 Disposable Eccentric U-Blades
Pigments

Evenflo Blonde 2 Brunette Pigment Kit

Gold Blonde
Dark Blonde
Bronzed Brown
Deep Brown
Brow Mapping Supplies

2 Wax Pencils
Thread
Surgical Marker
Eyebrow Razor (box of 10)
10 Disposable Rulers
10 Alcohol Squares
Sponge Applicators (bag of 50)
Correcting Stick (bag of 50)
Mascara Wands (bag of 50)
Green Soap Foam Pump Bottle
Concealer
Sterile Items

Green soap squeeze bottle
10 Squeeze bottle coverings
10 medical bibs
10 clip cord coverings
1 grip tape
10 ointments
Practice Supplies

Latex Practice Skins
Nexicare Tape
Mannequin Head
Ink Removal Practice Solution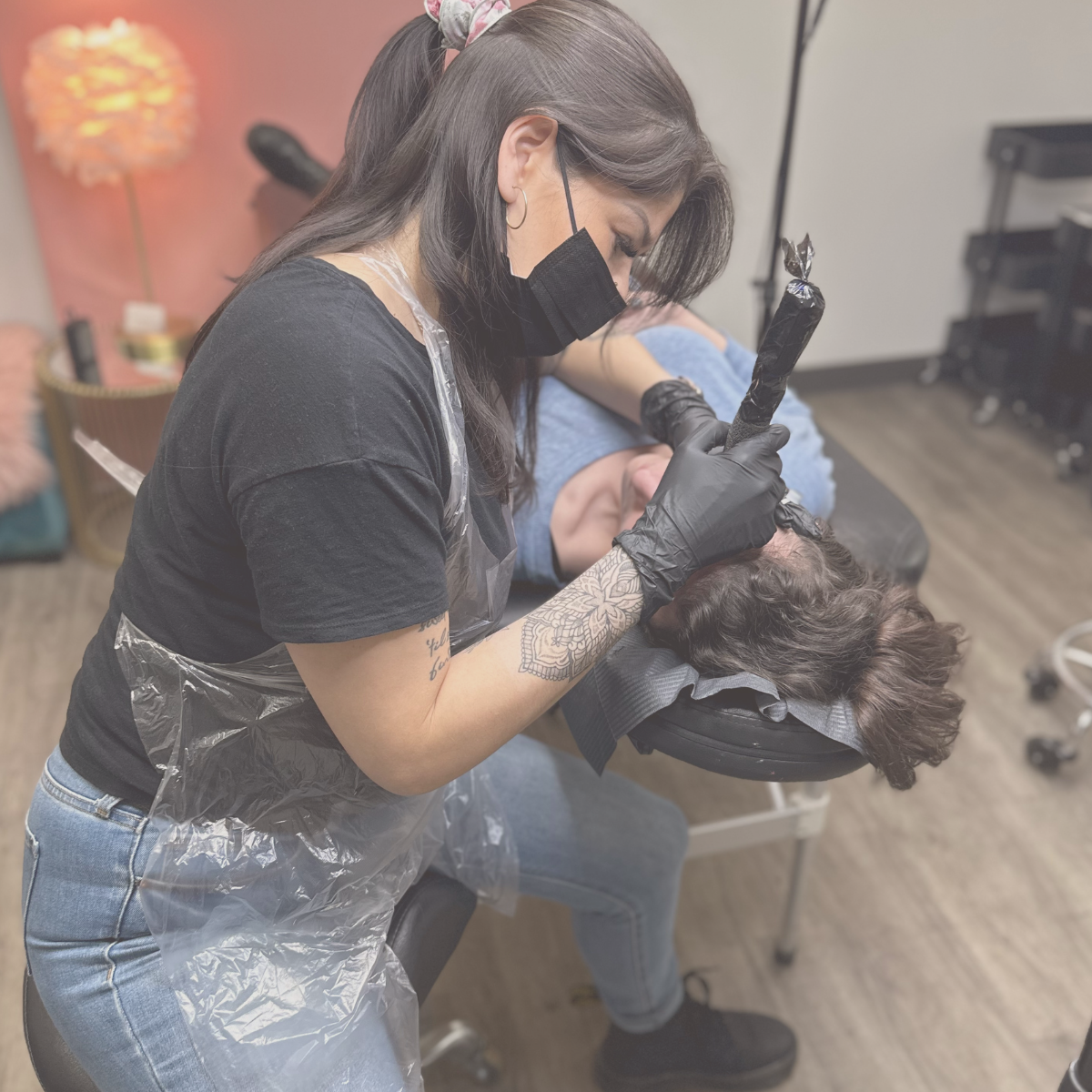 Earn 4x Prestige Certifications in Permanent Makeup
Tuition: $4,500 (reg. $4,900)
LIMITED TIME OFFER: $300 OFF on all October-December Training Dates
Registration + Deposit

Send an email to request training dates and secure seat with a $500 deposit payment.

Online Training Begins

Start the 5-day online portion one week prior to prepare for the live training.

Final Payment + In-Person Training

Settle remaining balance. Complete 4-days of hands-on training and 3 supervised live models.
Become a Certified PMU Artist
Start your journey today! Send us an inquiry and unlock your possibilities.
Potential Earnings as a Permanent Makeup Artist
With an average cost of between $350-$500 per new client, it can open the door to significant financial growth.
Have questions about our program?
Complete the Contact Form below to connect with us by email.
Interested in Financing?
Financing options are available through Medicard. 
Class Includes: 5-days Online Training, 4-days In-person Training, hardcopy manual for Masterclass (microblading, microshading, powder ombre & combination course), professional kit, device & certification.
Parking is located in parkade below the studio at The Neelu Bachra Centre - 550 West Broadway, Unit 734. We recommend you pay for parking from 10:00 am - 3:00 pm for all 4 days of in-person training. We ask that you please pack a lunch for each day.
A $500 Non-Refundable & Non-Transferable Deposit is required to reserve your spot in the class. The remainder of the balance is to be settled in cash or e-transfer on the 1st day of class.